BUNJURGEN Charbray Cattle Stud.
Est. 1998
---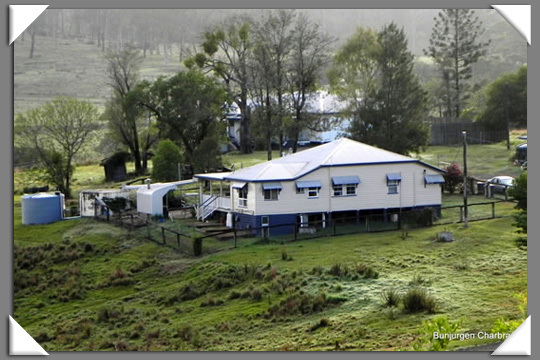 About Bunjurgen Charbray Cattle Stud
The property for our cattle enterprise at Bunjurgen was purchased in 1997. During 1998 we decided that we would like to breed cattle and started researching which breed we thought would suit our area and would meet market requirements.
After much deliberation we decided to breed Charbray cattle, so we purchased our first Charbray cows from Cromervale Charbrays near Kingaroy and a Conroy bull from Goomeri. The Conroy family were one of the first breeders of Charbray cattle in Australia. We were under way.
During our first year or so we felt that the cattle industry was moving towards requiring more polled cattle. With polled cattle our target we started on the journey towards producing more of these animals without losing bone structure and conformation.
Our aim is to breed about 65+ polled Charbray cattle per year, within the environmental sustainability of our property.
We have spent considerable amounts of time and money trying to improve the sustainability of our property since 1999.
Some of this includes:
selective clearing of old scrub
planting of new trees
reducing areas of salt in some of our flat land
fencing to control the use of our pastures (to maintain good ground cover)
We have placed dirt walls in many places to slow the speed of water coming off the mountain behind our property. This has helped repair many areas of erosion along our waterway that runs though the northern paddocks of our farm.
The results of all this work has resulted in better grass cover and production from our land.